Team History of MTM
Part 1 - 1974 to 1989 by Arthur H. Knowles 
Part 2 - 1990 to 2008 by Stan Bookout 
Part 1 - 1974 to 1989 by Arthur H. Knowles
You are invited to join the Minnesota Traditional Morris. A dance and organizational meeting will be held 7:30 P.M., in room 302, Wesbrook Hall upon the University Campus, on the evening of Thursday, Oct. 10 [1974]. Two clean, white handkerchiefs are required.
If you cannot attend, R.S.V.P. to the Squire (646-3506).

Membership limited. Yours,
Ed Stern, Squire MTM
Thus did the conceptual dream emerge from the mind of Ed Stern, begin to take form, and commence the struggle for ongoing existence in the ever-changing realms of physical reality. Records indicate that eleven men attended that first meeting. Ten names appear on the first team roster. By the spring of 1975 eight were ready to dance out. From that time to this MTM (Minnesota Traditional Morris) has been in continuous existence, dancing out seasonally, creating, maintaining and transforming our traditions, and working hard to overcome our status as a public curiosity and to achieve venerated recognition as a public nuisance.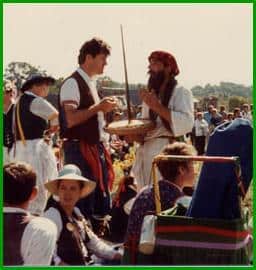 Ed had been introduced to Morris Dancing in Chicago some years previously when a group of international and English folk dancers organized an ephemeral group to learn dances which had been taught at the Pinewoods Camp. That original Chicago Morris team did not last long, but the thrill of learning a wholly new form of dance, and the interactive energy of six dancers moving and acting in unison made a big impression on our founder. Later, a reunion of the Chicago Morris dancers at the Stockton Folk Dance Camp in California triggered in Ed a minor satori, and he resolved that life would not be complete unless he could recapture that feeling and maintain it with an active Morris team. Thus are addictions born.
In the beginning Minnesota Traditional Morris was largely a misnomer. Ed was working at the University and most, if not all, of the dancers were friends and acquaintances from the university and particularly from the university's international folk dance group. Everyone was in Minnesota, but few were from Minnesota. This reliance on a necessarily transient population led to an extremely high turn-over rate during the early years of the group's existence. Every three or four months we would lose a veteran dancer and have to begin training a new apprentice. Leaving MTM did not necessarily mean leaving Morris dancing. John Cavanaugh went on to become Squire and Foreman of Ann Arbor Morris & Sword, and danced with the Hammersmith Morris Men in London before returning to MTM in 1986. David Nichols danced with the Albemarle Morris in Charlotte, N.C., and then founded Prairie Waves Morris in Omaha. Gary Johnson became Squire and then Foreman of New Haven Morris & Sword, to be followed in the latter position by Rick Mohr. Vern Arnold danced for a time with the Maroon Bells in Boulder, Colo. Our losses helped to spread and influence Morris in North America, but they also made our first years a struggle.
By using the word "traditional" in the group's title, Ed had intended to indicate that we were dedicated to performing the dances in the authenticated style with which they were performed in England. This laudable intent to keep the traditions pure and correct indicates a certain naivete with regard to the nature of traditions. The damnable things keep changing, if they are alive and vital as is the Morris, and neither Bampton nor Headington dance today as they danced in the 1920's. This led to certain confusions and even confrontations over the question of style, most of which have since worked themselves out through the mellowing affects of the passage of time. This use of the word "traditional" in our name also led to some sniggering about our parochial pretentiousness during our first visit to England. The Bampton Traditional Morris somehow just acquired their cognomen in the manner that an old dancer acquires gray hairs - little by little over their 600 year history, and we were a bare ten years old at the time. In general, throughout England, the term "traditional" tends to be applied to those teams with a clear (if occasionally tenuous) continuity to a pre-WWI past, as opposed to those teams which are conscious revivals of dead but remembered sides, or totally new organizations. Still, we maintain that Tradition is our middle name. The Morris teams in the United States which can claim a continuous history longer that ours can be counted on the fingers of one hand. At one time we and we alone, were responsible for the fertility of the entire upper Midwest. And the tradition we maintain is our own: growing, changing and developing; rooted in the past, growing and improving with each dancer's skill, and flowering with each and every performance.
But was it Morris? Most of us really didn't know for sure. Ed said that it was, but he was the only dancer who had ever seen anybody else dance the Morris. The first real verification came when Jim Brickwedde joined the group in 1978. Here, at last, was someone who had learned and danced before he came to Minnesota. He verified that we were, indeed, Morris Dancers, but could he be trusted?
In 1975 MTM performed on the following occasions: Nicollet Mall on the evening of May Day, May International Days at Apache Plaza, the Minnesota Renaissance Festival, the University of Minnesota Welcome Week Culture Fair, and the Victorian Christmas Fair. The last mentioned, being a winter season show, saw the debut of our rendering of the Ampleforth Sword [long sword] Dance-Play and thusly our entry into the realm of Ritual Drama. Not a bad schedule for a first year, but performances were rather limited during the early years. The Powderhorn Park May Day celebration was added to the list, along with various university gatherings, the Festival of Nations, odd shows at nursing homes, and later events at Saltari Folk Dance Emporium.
The Minnesota Renaissance Festival was the single most important influence on our performance style and on the development of the team. For one thing, performances at the Festival accounted for more than half of our total performances during each of the early years. In 1975 we danced all four weekends in exchange for the cost of our costumes. In 1976 the Festival ran for five weekends, and we were paid the grand sum of $200.00. The Festival provided us not only with a ready-made audience, but also with the feeling of being part of a theatrical event. Even when we weren't dancing we were still "on stage" as part of the Renaissance Village. Whether interacting with the Mayor's Court or the Thieves Guild, dancing, singing, kissing hands with gallant panache, or chasing women up the balconies, we were primarily entertainers and we became good at it. And we were dedicated: Rain, snow, sleet or merciless heat; mud or dust, we never missed a scheduled performance. And the festival provided us with enough performance time to become really good dancers. You can practice fifty weeks a year until you're totally exhausted, but it just isn't the same as performing. In the early days when the number of dancers and the group's repertoire were both small, everyone would get a chance to perform everything twice in a day. And camping out at the festival brought the group together in ways that beers after practice just couldn't. To top it off, the Festival gave us a reason and opportunity to perform the Abbots Bromley Horn Dance. From the beginning this ritual was meant as our gift to the Festival and our fellow participants - a magic thing to be shared and appreciated.
What the Festival might have done for us, but did not, was to teach us how to busk. This is one area of traditional Morris practice at which MTM is notably deficient, and the root of the problem goes back to that first Renaissance season in 1975. The Festival was still something of a shoe-string operation, and few of the performers received anything except what they could gather passing the hat. In the spirit of fair play MTM thought that there ought to be something that one could enjoy for free. And for lack of any other volunteers, we would be it. That was the start of our own very un-Morris tradition of not busking the audience at the Festival.
In 1978 we had our first out of state gig at a Festival of the British Isles at Iowa State University in Ames, Iowa. In 1979, at the urging of Jim Brickwedde and Ed Stern, the group made its first trip to the Marlboro Morris Ale, in Marlboro, VT over the Memorial Day weekend. This was a real "baptism of fire", since none of the rest of us had ever seen another Morris side. There were some fifteen other teams present - "real" Morris dancers, some who had been dancing for decades, and many with contact with the teams in England. It was a real eye-opener for us. We discovered that we were better than many, as good as most, and faster and more vigorous than anyone else. We were exposed to several new traditions, instilled with a new self-confidence and a higher rate schedule for our performances, and came home more dedicated to the dance than ever before.
1980 was the year that MTM really took off. Our roster numbered almost twenty dancers and musicians, many of whom are still with the current team or otherwise active in the community: Brickwedde, Hatch, Humphrey, Klueh, Knowles, Mellom, Moeller, Parker, Paulson, Rutledge, Schulte and Stern. This relative stability allowed us to improve our dancing, and to expand our repertoire. A fortuitous connection with Deb Martin, the organizer of the Minnesota Folk Festival opened lots of doors for us. We returned to Marlboro for the 1980 Ale, performed at the Summer Solstice Festival in Thunder Bay, Ontario, the Heritage Festival in New Ulm, Minnesota (where we connected with the Marti brothers who own the Schell Brewery), the North Country Folk Festival in Ironwood, Michigan, the Old St. Anthony Heritage Festival, and the Minnesota Renaissance Festival.
Oak Apple Morris of Madison, Wisconsin, hosted the first Midwestern Morris Ale in 1981. Dave Titus had been trying for some years to get a Morris side off the ground in Madison and it had finally gelled. We imposed upon Madison to host the Ale since it more or less split the distance between ourselves and Ann Arbor Morris & Sword, where our ex-Squire, John Cavanaugh, had found a home as foreman to the Ann Arbor team. As Morris in the Midwest spread and grew in the years that followed, the Midwest Ale grew with it. It is a traveling Ale, held over the Memorial Day Weekend each year, and hosted in turn by the various teams which have grown up in the Midwest. Past hosts include, Madison; Minnesota (all teams working in concert); Ann Arbor; Bloomington, Indiana; St. Louis; Boulder/Ft. Collins, Colorado; and Kansas City.
1981 was also, I believe, the first year that MTM invited Oak Apple and the Bells of the North to join them for a weekend of dancing at the Renaissance Festival. This modest beginning, garnering the support of the Festival management for a few years, became the Morris Madness Weekend. Organized by Arthur Knowles with the support of Lee Walker of the Festival, MTM brought in teams as distant as Boulder, Colorado (Maroon Bells); Winnipeg, Manitoba (WMM); Houston, Texas (Shambles Morris); Omaha, Nebraska (Prairie Waves Morris); Chicago, Illinois (Ravenswood and Windy City Women); and St. Louis, Missouri (Capering Roisters); in addition to Oak Apple and the Bells of the North. A change in the management of the Festival and a concomitant tightening of purse-strings diminished this Labor Day tradition. Arthur Knowles, after serving as contact person and negotiator with the Renaissance Festival for more than a decade, retired in 1991 in a state of severe burn-out. Dave Berner and later Tom Barnes took over Renaissance negotiations. With a stable core of experienced dancers and new blood in the form of three active apprentices, 1981 was a grand year for dancing. We repeated our appearances at the Summer Solstice Festival, the North Country Folk Festival, the Heritage Festival at New Ulm, and appeared at the Spirit of the Mountain Festival in Duluth. We had not yet quite earned the nick-name, Minnesota Mercenary Morris, but of all the groups performing at Spirit of the Mountain (a miniature Renaissance Festival) we were the only ones who managed to collect the entirety of our fee before the backers went under.
Our first official taste of England was acquired in 1982. The Traditional Bampton Morris Dancers (Arnold Woodley's side) visited the Westerly (Rhode Island) Morris Men, whom we had met at the Marlboro Ale. We headed east in the first week of August and met up with Bampton and Marlboro in Vermont. We then swung west through New York state, camping out at the Brickwedde family residence, before rejoining Bampton at the Westerly Ale for the weekend of August 6-9. Here it was that we first met Bob Walser, who was foreman for the Mystic (Conn.) Garland Dancers, and Geoff Rogers, of the madcap Juggler Meadow Morris (Mass.). The connection that began here with the Bampton Morris has continued to the present, and was formalized in 1989 with the presentation of a Bampton tie to our foreman and squire.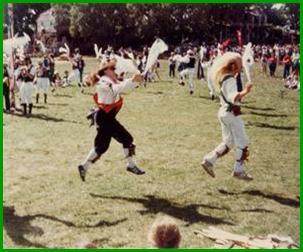 It may have been in 1982 or 1983 when we began to dance out at dawn on May Day. I believe that someone (or some several) had heard a report on National Public Radio about the Bowery Boys doing this in New York, and thought it was a great idea. For two or three years in a row May Day fell on the weekend which made things easier, and before you knew it a tradition had been born. May dawns are now the time when we dance for ourselves. All Morris Dancers are invited (any spectators serious enough to show up at that hour are welcome) to come together to dance up the sun. It is a fitting start to the "season", and a time when many an ex-dancer reappears to jingle their bells and dance in with us, just for old time sake.
1982 brought another harbinger of change: Chris Moeller and Sarah Mass presented us with the first Morris baby, Stephen. We should have known that, sooner or later, all the fertility dancing would have its affect. The stability of the team membership in the period after 1980 meant that more and more of the dancers were becoming involved with marriage and family, serious careers, and the accompanying encumbrances of approaching middle-aged existence. Our beer consumption was dropping off, and our energy, while still vigorous, was not quite so frenetic as before. There was some worry expressed that MTM might end its days as an isolated remnant of gray-bearded octogenarians performing only at family gatherings, or as tutors to the newly born kid's team that we rapidly creating. But it was not to be. In 1983 Jim Brickwedde was in England where his wife worked as an exchange teacher. He danced with the Hammersmith (London) side, learning Longborough which he would teach us the following year, and organizing the contacts for our 1984 England tour. That tour was something of a "coming of age" for MTM. We were dancing the Morris with the English in England. We were made welcome by Bampton, a traditional all male side; the Windsor Women; and Fenstanton, a mixed side, among others. We discovered that most of the English dancers were over-educated, under-employed, middle-class intellectuals - just like us. And we felt at home.
1985, 1986 and 1988 saw an influx of new, younger talent. The creation of Ramsey's Braggarts in 1987, dedicated to dancing a limited season, drew off some honored veterans from MTM, but left a core of serious and committed dancers. A return visit to England in 1989 was organized, with visits to old friends in Windsor, Fenstanton and Bampton, and contacts with Northwest Morris sides, Border teams and Molly dancers.
As we work our way through our second decade, the Minnesota Traditional Morris remains the premier Morris team in the Midwest. A dedication to performing excellence, entertainment and enjoyment continues to inform our dance. And, although the general public response to us is "who are you?", more and more often we hear, in sotto voce, or in the distance, "Ghod, no, here come the Morris Dancers". This is how traditions grow and develop.
At some point fairly early on in the group's existence - certainly by 1987 - the need was felt to develop a team logo. Our original kit had been designed by Ed Stern in conscious imitation of the "normative" Cotswold Morris kit, but we had nothing that particularly represented the Minnesota Traditional Morris. If I recall correctly Ed was particularly eager to come up with something suitable for use on T-shirts: Shirts that would only go to MTM members, and that could be worn as a pseudo-kit on informal occasions.

Various ideas were bounced around. The Great Northern Mosquito was dismissed as too frivolous, and for some reason the Loon was never seriously considered. A totem was required, and the general consensus favored some species of mammal. While the Gopher had some claim to our attention; certainly where thoughts of fertility were concerned, and especially in line with my own goal of promoting the Morris until it became a public nuisance, the creature lacked a certain dignitas which Edward and others felt to be important. Badger and Wolverine are native to our state, but have been appropriated by out-of-state institutions specializing in professional sports. The Deer, Bear, and Moose were considered potential candidates. Deer, while elegant and graceful, are common throughout North America and Europe, and the animal tends to be skittish rather than bold. The Black Bear is often less than graceful, and is more often associated with certain cartoon characters, national parks and garbage dumps, than with the dancing bears of old. The Moose is common to our state, easily recognizable, and possesses sufficient dignity, strength, and persistence to be attractive. But even this noble creature presented problems. The most common appearance of the Moose in Minnesota is rather like the apparition of the Statue of Liberty which was seen a few years back in Lake Mendota in Madison, Wisconsin: submerged to the chin, munching on vegetation. Even when sighted on land, the Moose is not particularly photogenic. It is a forest creature, and spends most of its time hunched-over to avoid low-hanging branches. It seldom stands fully upright, and almost never is seen in the "rampant" position favored by the heraldic arts. In addition to these considerations there existed at this time in Maine a group called the Moose Mountain Morris Men, and I, for one, worried about a confusion of similar totems. What were we to do?
Jim Brickwedde discovered the solution. While attending an RSCDS ball in Winnipeg, he came across, at the Marlboro Hotel, an etched glass representation of an Elk Rampant. He brought back a photograph of the same which everyone agreed would make a dandy logo for us - except that it was an Elk rather than a Moose. But, hey, one quadruped ungulate looks much like another except for the horns. With the assistance of Nick Lethert, our (then) resident artist, and others, some quick work with a felt-tipped pen replaced the tiny tines of the Elk with the massive rack of a nature Moose: The Minnesota Traditional Morris Melk was born.
The Melk first appeared on T-shirts, white on green for MTM members, and dark brown on tan for groupies, significant others and offspring. In the early 1980's the decision was made to incorporate the Melk into the official team kit. An embroidered device was designed for display upon our baldrics. Various team mottos were suggested at this time for inclusion on the device, such as "Tradition is our middle name" and "Song, dance and inebriation". These were rejected, however, in favor of the present design which was done by Nick Lethert.
A word should be said here about the unofficial team logo: The Minnesota Coblynau (Koblernigh). This fairy form was long supposed to be of Welsh origin, and akin to the Cornish Knockers. The work of Ed Stern, however, has gone a long way toward proving them to be Minnesota natives. The hankies and leg bells give the first clue. Further examination reveals that the supposed wooden clogs the fairies are depicted as wearing are actually "Chinese slippers" so ubiquitous at the Minnesota Renaissance Festival, and the contraption hanging from their belts, so easily mistaken for a miner's lantern, is actually a leather drinking jack. The clinching bit of evidence was provided by a computer enhanced image of the fairy's T-shirt. This revealed beyond any doubt that what had been interpreted as the mane of a British Lion was actually the rack of antlers of a Minnesota Moose. The conclusion is inescapable that the Coblynau is not a Welsh mining fairy, but rather a Minnesota Morris fairy who has become hopelessly lost while searching out some distant beer cellar. The Coblynau first appeared on the cover of the MTM Manual (1982), and on the original Morris drinking jack (in the possession of this author), and later, on a T-shirt, it helped to sponsor our 1984 tour of England.
Part 2 - 1990 to 2008 by Stan Bookout
The 1990s brought some changes to MTM, although we continued other things we'd been doing that were well on the way to becoming traditions. After all, tradition is our middle name. We made a return trip to the Marlboro Ale in 1991. Our numbers were still pretty good. We had around 20 dancers on the roster. We performed at the Land of the Loon festival in Virginia, Minnesota every second year alternating with the Bells of the North, the women's Morris team which had stated in 1979. We continued dancing at the Heritage Fest in New Ulm, MN where we were hosted by Georg and Paula Marti. More about them later.
In 1985 the Renaissance Festival expanded to seven weekends, and MTM performed at all of them. We were surprised when, in 1988, the Festival offered us a contract for half the amount of pay as in the prior year; their justification for this appeared to have been: take money from some large, more highly paid groups and distribute it among the Street Performers and Minstrels who had been paid little or nothing. This reduction in compensation did not sit well with MTM, so we offered to participate a number of weekends proportionate to the total amount the Festival offered, keeping the per diem rate about the same. This was accepted by the Festival and MTM performed only four weekends that year. As the years passed, we expanded to five and eventually to six or, in some years, all seven weekends. Derek Phillips joined us in 1994. As a professional dancer and dance administrator he had great skills at negotiating and soon took on this role for us in negotiations with Renaissance Festival management.
Travel seems to have become part of our blood (and bells). In 1994 we traveled to the "northwest" coast where the U.S. and Canada meet. We danced with the Mossyback Morris Men of Seattle (Washington) and Bridgetown Morris in Portland (Oregon), then crossed the border to dance with the Vancouver Morris Men and a team in Victoria (British Columbia).
Okay, back to Georg and Paula Marti. As our friendship with them expanded, so did their business. Georg switched his attention from his family's brewery (the August Schell Brewing Co. in New Ulm, MN). He and Paula started a winery that they named Morgan Creek Vineyards. We were already established as a beer drinking team, so expanding to wine was not too big a stretch. They invited us to do the Abbot's Bromley Horn Dance through their newly planted vineyard. We were happy to do it. It's the only place we have done the Bromley other than the Minnesota Renaissance Festival. They continued to host us every summer for the New Ulm Heritage Fest, wining and dining us. And still beering us. Eventually we would be there again every fall for their annual grape crush.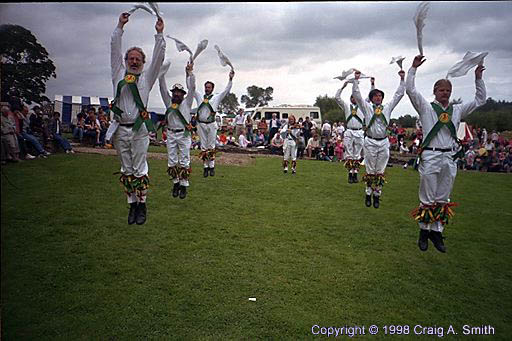 In 1998 MTM made its third trip to England. Sixteen dancers made the trip. At this point our traditions included Headington, Adderbury, Lichfield and some Bampton. We visited and danced with each of them. We also danced Longborough and Fieldtown. Some of us were dancing Border. We were hosted by the Shropshire Bedlams, a well known border side. Just in case you don't know, a "side" is another word for "team." Sometimes our language is more confusing than what we do. Other trip highlights included an invitation to a Ring meeting (there's that strange language again). The Morris Ring of England was at that time a fairly strict group of a limited number of teams (male only). They saw themselves as the keepers of the true Morris tradition. The Holy Grail of Morris, if you will (or if you won't). Maybe they still see themselves that way. Another event we attended was the Leigh-on-Sea Festival as guests of the Maldon Greenjackets. Between this and the Ring meeting we saw and/or danced with at least 40 teams. We were warmly welcomed by all, and we got the message that they felt we were dancing quite well. We were invited to join the Ring (but declined). The trip was topped off at Bampton with what they advertised as an international Aunt Sally competition. Aunt Sally is a popular pub game in their region of England.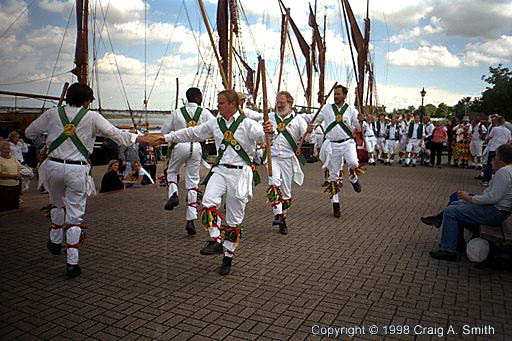 Morris dancing continued to grow and expand throughout the U.S. This was also true of MTM. Our team retained its older members rather than seeing them retire, and as a result the average age of our team increased continuously, but we have always managed to recruit some younger dancers. A reference was made earlier in our team history to the first Morris baby being born in 1982. Well, he joined us as a dancer in 2001. Our roster had by then grown to around 30. And It was delightful to go to the Midwest Morris Ale and see the number of younger dancers from around the country in attendance.
We started dancing at the Powderhorn Park MayDay Festival (put on by the In the Heart of the Beast Puppet and Mask Theater) in 1978; this Festival is held on the first weekend of May, not on May 1st. We continued to dance annually in the MayDay Festival, usually in the park, but a few times before 1990 we had participated in the nearly two mile long parade.
Our summer schedule got busier. In addition to Powderhorn Park, in 2001 we were invited to perform at a new May celebration in the tiny town of Marine on St. Croix, usually held on a later weekend during the month; we have continued to dance annually at their Mill Stream Day event. We also began dancing in Edina, Minnesota's annual Fourth of July Parade; a few years later we added Richfield's Fourth of July Parade -- two parades on a single day in many years, but Richfield has not been as consistent as Edina. We added dancing annually on the "National Night Out," the first Tuesday of August, beginning in 2000, usually somewhere in the Twin Cities where one of our members and their neighbors were holding a block party.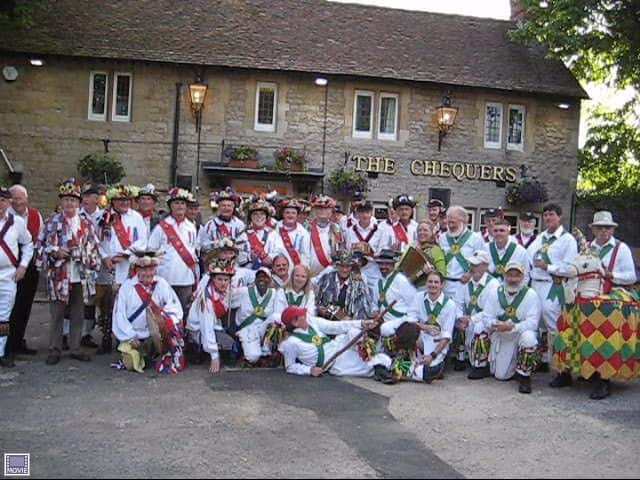 In 2008 we made our fourth trip to England. By now the internet was commonplace and made arranging the trip much easier. As before we danced with old friends such as The Adderbury Morris Men, and made new friends as well. Sometimes the magic of Morris appears in surprising ways. We danced with Chipping Camden but had no overnight accommodations prepared. Prior accommodations had included everything from the homes of our hosts to church basements, town halls and even a boy scout hut. A Chipping Camden musician asked whether or not a town hall would work. Of course it would. He made one phone call and we had a place for 2 nights. It happened to be in the town of Ilmington, another "tradition" in MTM's repertoire, and as he danced with the extant Ilmington Morris side, he offered us a workshop. Learning more Ilmington while in Ilmington from the Ilmington dancers was an offer we couldn't refuse. When we arrived at the town hall, we were greeted by a woman who said, "when I saw those vans go by, I knew it had to be you. I heard you were going to be nearby, and I had to see you." We had met her husband, Stan, 10 years before at the Ring meeting. He enjoyed us so much that he came to see us at 2 more stops on our itinerary and brought her along. She came to let us know that Stan had died. That he enjoyed us so much that she wanted to tell us. In fact, she'd scattered his ashes nearby. So we got back in the vans, drove to the pasture where the ashes had been scattered and danced for our old friend. One of our dancers stated, "We might be spread far apart, but we're still a family." I include this as a part of our team history because it says a lot. By now we had become more than just a bunch of men dancing and having fun together. We have become a community, like family, and an international one at that. This would become even more evident as some of our own members passed away and as more Morris babies were born.