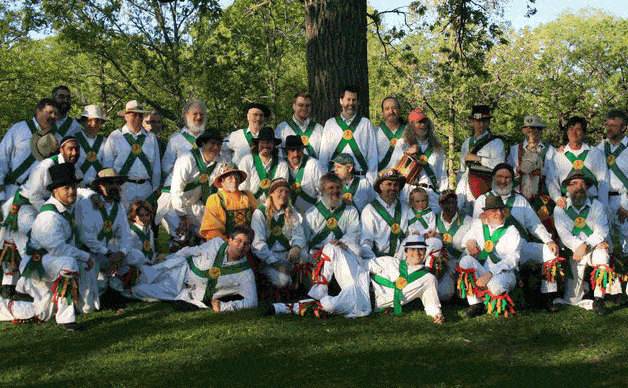 Minnesota Traditional Morris (MTM) is a men's English folk dance team dancing a style of Morris originating in the Cotswold Hills of central England— hence the style is known as Cotswold Morris. Morris dances are performed by from 1 to 8 team members dancing to music provided by violin, melodeon, pipe & tabor, even the voices of the dancers themselves. It is exuberant, boisterous, and vital fun!
Founded in the autumn of 1974 MTM was shooting the curl of the 70's folk awareness wave. The team immediately began developing dance traditions and what easier way than to steal them from the guys who'd been doing them for centuries. Which is what everybody was doing in those days with the help of the dedicated founder of the Winchester Morris Men, Lionel Bacon, who traveled the Cotswold's in the mid-Twentieth Century and documented as many of the local styles as he could. In part, it's thanks to Sir Lionel that the Morris style of traditional folkdance is alive and living in the America's today.
And nowhere is the tradition more alive than in the Twin Cities of Minneapolis and St Paul. Minnesota Traditional Morris performs at various venues including the Marine on St Croix May Festival, Edina's and Richfield's 4th of July parades, the Morgan Creek Vineyards near Cambria, Minnesota, and the Minnesota Renaissance Festival.
MTM just might be available for your parade, festival, or even back yard barbeque. Our season runs from May 1 through September 30. Have a look at our schedule. Then contact our Squire and he'll do his best to bring the living tradition of Morris to your event.